Christmas is the time for food. Some people say that if you don't gain a few pounds over the holidays, then you're doing something wrong! During this special time of the year, every house is packed with food for the holidays – ranging from celebratory dishes to grand boxes of wine. It's definitely the best time to pack yourself with as much food as you can – without feeling guilty! At this time of the year, you can even get your own
personalized napkins
to accompany your delicious journey through different dishes, parties and meals.
However, because you have a gazillion food at home, there's always that possibility that you could end up wasting a lot of it because the kids have refused to eat them. Or maybe, there are the extra cookies that you baked especially for your neighbors across the street. When this happens and you need to bring food over to another house, you'll need some special containers to keep the food as fresh as possible.
This is what
Karat Paper Food Containers
are for. Instead of using plates or risking your good China to deliver food to your next door neighbor, you can use the paper food containers for safe keeping and fresh deliveries. In this special discounted rate from Cupdepot, you can get a case of the paper food containers for as low as $59! That's definitely a great steal, especially if you have a lot of food deliveries to your friends and family.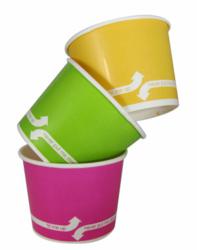 You can choose from the different sizes of the Karat paper food container - 12 oz, 16 oz or 20 oz cup sizes. If you'll only be delivering smaller amounts of food, you can also get the 4 oz, 5 oz, 6 oz or 8 oz cups. With the variety of sizes available, this paper food container is the ideal choice for delivering food as gifts to your loved ones. And if you're selling goodies, these containers will also be perfect for storing pastries and cakes. At least, if your customer decides to give the food to a friend or relative, they won't have to look for a good container to deliver the food.
One pack consists of
500 – 1000 pieces
of these paper food containers. For coffee shops or cafés, this will definitely be a good investment. After all, even if the season is over, you can still use the containers for many other things.
Karat offers its buyers with a good selection of colors for their containers. Available in
pink, orange, green, white or yellow
, you can pick the perfect color to represent your shop. If you're an eco-friendly business, Karat also has a dedicated paper food container especially for you.