Before you officially open up your coffee shop, make sure that you have these 10 things first:
paper cups
1.
Paper cups
– this is absolutely essential. Coffee shops always have to be prepared for customers who might have to take their coffee to go. When this happens,
paper cups
are the best way to go. If you're aiming high, look for a company that can customize your cups. This way, you get to brand your coffee shop even at its early stages.
2.
Paper cup jackets
– if people will be taking out their coffees, there's a chance that they won't be able to hold it, especially if the coffee is too hot. This is why you need a selection of paper cup jackets. Just like your cups, you can get these jackets printed too. Having cup jackets allow the customer to protect themselves from getting burned while holding the cup. If you plan to satisfy customers with their to-go orders, cup jackets are a must.
custom printed cup jackets
3.
Cup organizer
– your kitchen has to be organized. This way, you know the sizes of your coffee and you can pick out the cup well. Choose a cup organizer that can hold the different sizes of cups.
4.
Stir straws
– another important coffee shop supply that you definitely need. Stir straws are essential to customers who like to add sugar and milk into their coffee. They use these flattened straws to stir their coffee. Set the stir straws in a public area where customers can just get it themselves.
5.
Napkins
– everyone needs napkins with their coffee. Have
custom beverage napkins
available for your customers in a set table, along with stir straws. Whenever they need napkins, they can just pick it out of a dispenser.
get custom beverage napkins
6.
Carrier with trays
– some people are asked to go on coffee runs with many people. Obviously, they can't hold two or more cups at one time. This is why trays were invented. Customers can now buy more than one coffee without worrying how to carry them. Have a stack of carrier trays available just in case.
7.
Dispensers for coffee supplies
– it can be messy if you leave stir straws and napkins without a proper dispenser. Buy a specific dispenser for these supplies and just restock them at the end of every day.
8.
Mugs
– if you have to-go customers, then there's a big possibility that you'll also have customers who'll stay for awhile. Use mugs to serve coffee to them.
9.
Cup lids
– these are for to-go customers. It's important that they don't spill any of the coffee that they're buying. In order to prevent any spillages, have a good set of cup lids for your paper cups. Make sure that the lids can hold tight so that they won't easily open up or have coffee slipping through cracks.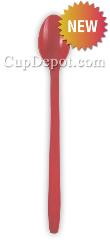 coffee spoons
10.
Spoons
– sometimes the stir straws just aren't enough. You should also have a set of spoons if one of your customers needs one for their coffee.